Real Name: Peter Senerca

Birthdate: October 11, 1969

Height: 5'9"

Weight: 240 lbs.

Hometown: Red Hook, Brooklyn, New York

Nicknames: The Human Suplex Machine, Mr. FTW, Human Wrecking Machine, The One Man Crime Spree, The Tazmaniac

Signature Moves: Tazzmission & Head & Arms Tazzplex

Major Titles Held:
FTW Champion
ECW World Champion (x2)
ECW TV Champion (x2)
ECW Tag Team Champion (x3)
WWE Hardcore Champion (x3)
WWE TAG TEAM Champion

Catchphrases: "The mood is about to change." "Just another victim." "Beat me if you can... Survive if I let you." "Thug-Life born, Thug-Life bred, and when the time is right, I'll be Thug-Life dead."

Highlights:

    Peter Senerca made his professional wrestling debut in San Juan, Puerto Rico in 1987. Wrestling in the Indies circuit and in Japan under the name "The Tazmaniac" He wrestled briefly in W*ING in Japan, thanks in great part to the influence of Kevin Sullivan. Tazmaniac also wrestled for New Japan Pro Wrestling. In early 1993 Senerca began wrestling for James E. Corrnette in Smokey Mountain Wrestling. It was close to this time, where he defeated Flex Wheeler in a Tournament in Windsor Locke, Connecticut, where Tazmaniac became the New England Cruiserweight Champion.

    A short time later, Peter Senerca contacted the infamous Paul Heyman and asked to be part of the newly formed ECW. Heyman offered him a contract with opportunities to face Sabu, and Senerca quickly accepted. Less than six months later, The Tazmaniac made his ECW debut in October of 1993. A short time after making his impact in ECW, Tazmaniac teamed up with his old friend Kevin Sullivan to win the ECW World Tag Team Championship form Tommy Dreamer and Shane Douglas in the ECW Arena on December 4, 1993. Later in March of 1994, Sullivan and The Tazmaniac defeated the Bruise Brothers to start their second reign as ECW Tag Team Champions of the World.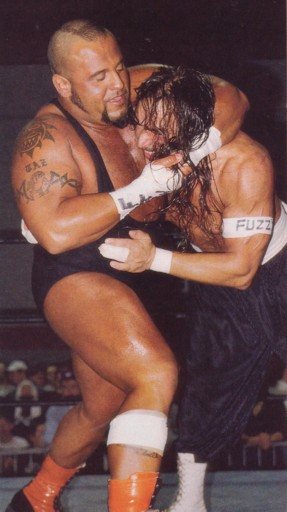 On December 5, 1993, Tazmaniac defeated Sabu to win his first ECW singles gold, The ECW World Television Title. Unfortunately he lost it the same night to J.T. Smith. Less than a year later, Tazmaniac and Sabu were quickly becoming a formidable tag team. The fruits of their combined efforts came to fruition on February 4, 1995, when they defeated Public Enemy for Tazmaniac's third ECW Tag Team title reign. Later that year, Senerca suffered a broken neck at the hands of 2 Cold Scorpio, and was out of in-ring competition for several months.

    When Taz returned, he started a feud with The Ultimate Fighting Championship veteran Paul Varleans. Taz defeated Varleans at Hardcore Heaven in 1996. In April of 1997, ECW was gearing up to put on their first Pay-Per-View event. At this event on April 13, Taz defeated Sabu at the hands of his devastating Tazmission Hold. In June of 1997, Taz claimed his second ECW TV title when he defeated Shane Douglas.

    When 1998 came around, Taz found himself going nowhere in the league, and was not getting the respect that he was due. On May 14, 1998, Taz declared himself the FTW (F*ck The World) Champion. This trusted Taz in to main event story lines. Finally on January 10, 1999, at the Guilty as Charged Pay-Per-View, Taz pinned The Franchise Shane Douglas to become the ECW World Heavyweight Champion. Taz held that title for more than nine months, until he was defeated by Mike Awesome at the Anarchy Rulz Pay-Per-View. At the Top of the World in ECW, the bigger wrestling organizations were starting to take notice of Taz. In September of 1999, Taz signed a contract with the Top Dog of Professional Wrestling the WWF.



    For several weeks in the World Wrestling Federation, the coming of Tazz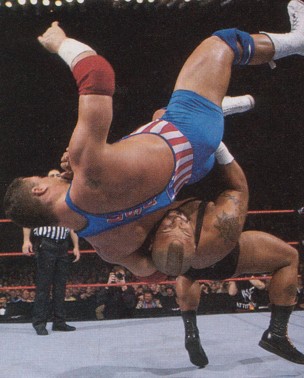 was foreshadowed by his trademark orange glow in arenas throughout the country. It was at the Royal Rumble on January 20, 2000, where the then undefeated Kurt Angle was scheduled to meet an unnamed opponent. When the time came, and Angle waited in the ring for his mystery opponent, and it was no surprise that Tazz came to the ring accompanied by a huge pop from his hometown crowd at Madison Square Garden. It was at this event that Tazz forced Kurt Angle to pass out by the Tazzmission, thus ending Kurt's undefeated streak in the WWF, and beginning Tazz' strangle hold on the World Wrestling Federation.

    On April 2, 2000, Tazz made his Wrestle Mania debut at the Arrowhead Pound in Anaheim, California for Wrestle Mania 2000. He competed in a fifteen-man Hardcore Battle Royal, where he became a two-time WWF Hardcore Champion. Unfortunately, he was not able to leave the arena that night with the hardcore belt, as he was beaten out by Hardcore Holly that evening.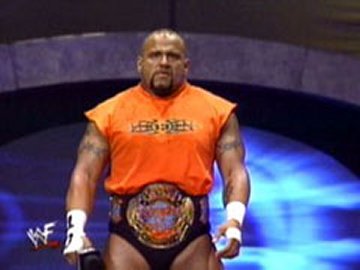 A few weeks later, Tazz returned to ECW to defeat Mike Awesome (who was about to leave for WCW) for his second reign as ECW World Heavyweight Champion. The next time Tazz returned to ECW, he lost the belt to Tommy Dreamer. A short time later, Tazz suffered a shoulder injury as the result of Chris Benoit slamming his arm in a car door (according to storyline). It was due to this injury that Tazz was sidelined for several months, and when he returned he found it difficult to regain the crowd's attention.

    In July of 2000, Tazz had another run-in with the WWF Hardcore Championship, but like his previous reigns as Hardcore Champion, it was short lived. Later that summer, He had a brief feud with Jerry "The King" Lawler during which he made a change from face to heal. Tazz also began hosting deities MTV's Sunday Night Heat. It was not long after that The King left the WWF and Tazz took over as color commentator for Smack Down! Tazz was instrumental in the success of the Spring 2001 launch of MTV's WWF Tough Enough. As one of the Main Trainers on that show, Tazz provided a no Bull Sh*t role for the hopeful WWF Superstars.

    On July 9, 2001, Paul Heyman reformed the ECW within the WCW to form an alliance that would challenge the World Wrestling Federation. Tazz joined the Alliance on that night. Since then he has become a little more active in active competition, however his win/loss record has been less than impressive. The leader of the Alliance, Stone Cold Steve Austin, has on several occasions challenged the value of Tazz' presence in the ECW/WCW Alliance. Tazz is currently involved in a master versus apprentice story arch where he faces Maven, the winner of Tough Enough, who Tazz was instrumental in training.